"This is the easiest, yet most advanced Golf Tournament Scoring software available!"

TournaScore™ is LIGHTNING FAST on the Front End - and LIGHTNING FAST at Tournament End.

TournaScore™ features:

Lightning fast on the Front End - lightning fast at Tournament End
TournaScore™ prints scorecards, cart signs, alpha lists, proximity markers, Pro Shop credit certificates, pin sheets...
SETUP OUTSIDE EVENTS WITHOUT TYPING IN NAMES!!!
BUT STILL HAVE ALL PLAYERS NAMES IN YOUR TOURNAMENT IN SECONDS!!!
TOURNASCORE™ MAKES LAST MINUTE CHANGES IN SECONDS, TOO.
We don't know of anything out there that can set up an event faster than we can.
Display Tournament Info/Results on your TVs
TournaScore™ allows you to display all your tournament information on your TVs.
Scroll tee times, pairings and starting holes before the event - then change to results as scorecards come in.
This is really awesome and easy!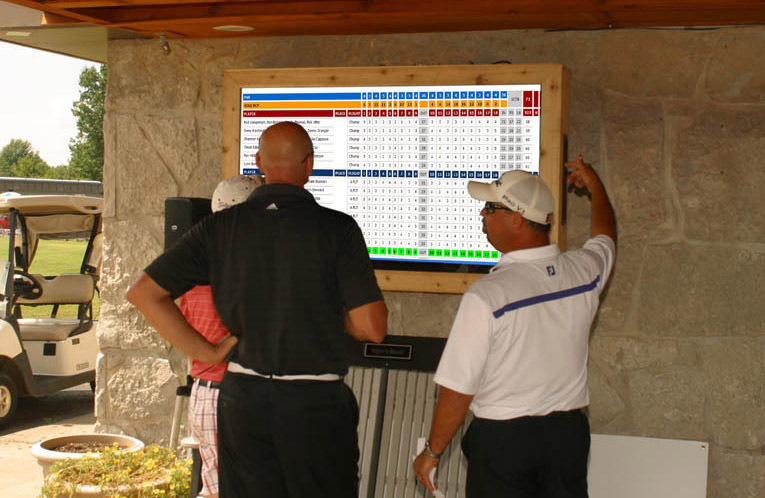 Easily Add Logos to all printed tournament materials
TournaScore™ provides a solution for adding sponsor logos that is unmatched for service and dependability.
Our Pros have complete access to our Graphic Arts department to ensure that logos are seamless and simple - perfect - everytime!
Run Skins with a mouse click
TournaScore™ will show skins with a mouse click - by Flight or one skins pot. You can also remove teams or players from the Skins game
with just a mouse click. Skins works perfectly - in one second - every time!
Setting up Flights
TournaScore™ sets up flights in 1 second with 1 mouse click - no clicking and dragging players...

Setting up Tee Times for the second day of an Event
TournaScore™ sets up Tee Times for a Two Day Event in seconds...

Easy publishing your Flights & Tee Times to the Internet
TournaScore™ uploads your Tournament information with a couple mouse clicks...no advanced computer skills are necessary.

Notify your players instantly with Emails and Texts
TournaScore™ will allow you to send your players an email or text with their scores, flights, and tee times...
You can use TournaScore™ to instantly notify your players of rain delays, cancellations, rules changes...
Easily Interact with GHIN, Blue Golf or other Handicap Software
TournaScore™ allows quick, easy updating of handicaps based on other handicapping systems.

Each version of TournaScore™ also includes:

TournaScore™ STANDINGS - Used for League Points, Player of the Year Points, etc. Standings updates with a few mouse clicks.
Quickly Publish and Text message standings to your members.

TournaScore™ TEAM MAKER - Build teams in a matter of seconds based on Handicaps.
You can modify the automatic team recommendations in seconds!
TournaScore™ HANDICAPS for Leagues - Want to help win the war against sandbaggers with your Leagues?
TournaScore™ Handicaps will create Handicap Indexes based on your League scores (separate from GHIN).
Handicap Differentials are created after each league event and can even be based on multiple tee boxes.
This is fully automatic and easy to use. It takes only a couple seconds to update Handicap Indexes with this program.




---
COMMUNICATE WITH YOUR PLAYERS VIA TEXTS & EMAILS.

Your players will be the MOST INFORMED, HAPPIEST GOLFERS you'll ever have.
Plus, frivolous calls to the ProShop will decrease by 90%!

---

We asked one of our Pros to give us a reference for our website and this is what he said:

"Say anything you want about TournaScore™ and just put my name on it! I don't have enough words to say how much TournaScore™
has changed my life since I started using it." Mark Tackkett, Briarbrook Golf Course, Carl Junction, Mo
( click their Leaderboard tab on their website )
Testimonial - On June 7-9, 2013, Briarbrook Golf Course held their annual Briarbrook Invitational, a 120 player, stroke-play event.
Pairings were posted to the golf course website on the Tues. before the first round of play on Fri. When players signed up, they were told to go to the
website to see their pairings for the first round of play. As a result - there were virtually NO CALLS to the Pro Shop with players asking for their tee times
Fri. Within minutes of the conclusion of Friday's first round of play, text messages were sent direcly to the players informing them of their tee times for
Sat. - AND - the full results of Friday's round were posted to the Briarbrook website. Again, at the conclusion of Saturday's round, the same procedure was
done. And, then at the end of the event, the final results were posted to the course website within minutes of completion of the event.

DURING THE COURSE OF THIS EVENT, THE PRO SHOP HAD VIRTUALLY NO CALLS FROM PLAYERS ASKING FOR TEE TIMES, FLIGHTS, RESULTS, ETC.!!!

But, the golf course website received 3,285 hits during the course of the event!!!
WE KNOW OF NO OTHER WAY TO DRIVE TRAFFIC TO YOUR CLUB'S WEBSITE THAN BY THE WAY TOURNASCORE™ PUBLISHES RESULTS OF EVENTS.
It's so ridiculously easy, lightning fast, your mind will argue with your body that there is simply no possible way you can be finished with your event in such
a small amount of time - and - EVERYONE WILL HAVE THE RESULTS - and there will be no need to call the Pro Shop for tournament information.



Display info and results on TVs in the clubhouse, restaurant, & Pro Shop

CALL US TODAY FOR INFORMATION ON HOW YOUR GOLF CLUB CAN HAVE TOURNASCORE™ AT NO COST -

417-755-0223